Search

Information for Application Administrators
Indexing fields

Details about indexing fields and the impact on searching can be found in the Axiell Designer Help.

Phonetic search

Details about configuring non-linked text and free-text fields for phonetic searching can be found in the Axiell Designer Help.

Partial date searches

Partial date searching requires that a date field has been set to ISO Date. Details can be found in the Axiell Designer Help.

Note that ISO Date fields can have a Date completion property set, which will auto-complete a date in a Date range search where a year only or month and year have been recorded (for example, if a date of 1937-03 has been recorded, it will be indexed as 1937-03-01 if it is the start of a date range or 1937-03-31 if it is the end of the date range). This is explained in greater detail here.

In this case, a partial date search of:

dating.date.start from 1937 And dating.date.start to "1937-03"

will return a record with a date of 1937-03-01, which may not be expected. For this reason it is recommended that users always specify a full date when performing a date range search.
Day to day management of your collection typically begins with a search for one or more records. Axiell Collections has a powerful search engine that can search across multiple fields within one operation. Taking advantage of search operators (equals, does not equal, contains any, etc.) to control how a search term is treated in a field, Boolean operators (AND, OR), wildcards (*, ?), and a range of other special characters can greatly fine-tune your search.
In this section of the Help we describe:
How to run a new search and then how to fine-tune your search results. Details here.
How a search can be saved and re-run at any time. Details here.
How you initiate a search in Collections will depend on whether you want to choose which data source

The management of a collection can involve a vast amount of information about objects / items / books, people and organizations, events, administration and more. This information is stored as records in data sources. Each data source stores a specific type of information: details about collection items, people, events, loans, and so on. to search or you are already working in a data source (having already run a search for instance):
Below, we describe how to initiate a new search and select a data source to search.
If you have already run a search and wish to search the current data source, the method is mostly the same, but you do have additional options which we describe here.
How to run a new search in any data source
To initiate a search in any data source:
Select Search in the Main menu

-OR-

Use the keyboard shortcut, F8.

The Select data source box displays, listing all data sources you are authorized to work with. Here you select which data source to search:

Note: A comprehensive description of data sources is available here.
We describe all of the options in the Search box, and how to configure your search next.
When your search is run, Collections switches to Display mode

A record is either in Display mode (we view its details) or Edit mode (we add or edit its details). A record enters Edit mode as soon as we create a new record, copy a record in Record details View or edit an existing record. and all records that match the search criteria you specified are listed. Until you select another data source from the Select data source box, you will be working in the data source named in the top Toolbar (Persons and institutions in this example):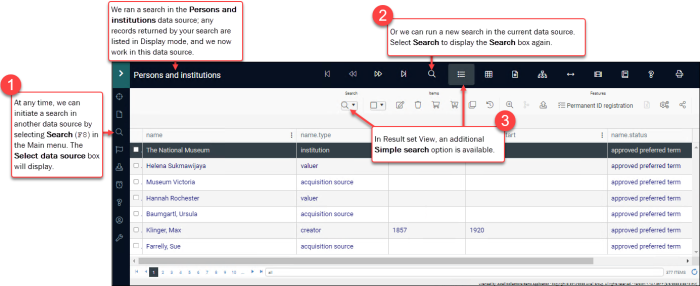 From here you have the option to:
Run a new search in any data source: select Search (

F8

) in the Main menu again (Step 1 above).
Run a search in the current data source: select (

F7

) in the top Toolbar.

With this option you can run an entirely new search in the current data source, or fine-tune the previous search.

Run a Simple search in Result set View; these are pre-configured searches in one or more fields in the current data source.