Record details View
Record details View displays all available details of the current record

The record currently displayed in Record details View or highlighted (with a solid grey background) in Result set View or Gallery View for instance. following a search, the import of records, retrieval of records from a saved search, and so on. By default the current record is in Display mode

A record is either in Display mode (we view its details) or Edit mode (we add or edit its details). A record enters Edit mode as soon as we create a new record, copy a record in Record details View or edit an existing record..
Record details View is displayed / hidden by selecting its button in the top Toolbar, and it opens by default when creating a new record. All fields you are authorized to view are arranged in logical groupings across a series of tabs. A default set of tabs is specified for each data source

The management of a collection can involve a vast amount of information about objects / items / books, people and organizations, events, administration and more. This information is stored as records in data sources. Each data source stores a specific type of information: details about collection items, people, events, loans, and so on. but you can add / remove tabs and reorder them by selecting Settings in the Record details View toolbar (you can also change the order of tabs with drag and drop).
Authorized users are able to edit the current record

The record currently displayed in Record details View or highlighted (with a solid grey background) in Result set View or Gallery View for instance., to copy it and to add a new record.
This view opens by default in the main Collections window, but it can be detached and viewed in a separate window: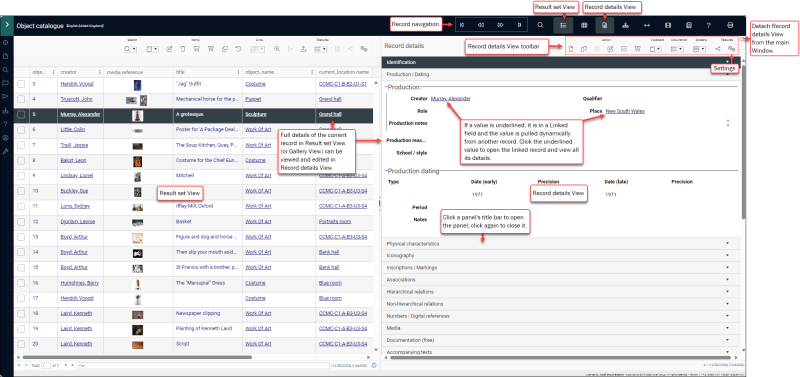 A useful combination of Views is Result set View alongside Record details View: the current record is always the same in each View, so as you move from one record to another in Result set View (by clicking a record or using the Record navigation buttons in the top Toolbar), all available details for the current record will display in Record details View.
The Record details View Status bar shows the position of the current record in the result set

The records currently listed following a search, retrieval from a group, etc. (e.g. record 6 of 11 records currently listed)1 Collections version 1.16 onwards.:

This can be useful if Result set View is closed: as you navigate through records in Record details View, the position of the current record in the result set is always indicated.
Another useful combination of Views is Record details View alongside Related records View. All available information in the current record can be viewed in Record details View, with records linked to the current record, such as loans, exhibitions, treatments, listed in Related records view:
In Record details View a record is a collection of fields organized as a series of groups on tabs. In Display mode

A record is either in Display mode (we view its details) or Edit mode (we add or edit its details). A record enters Edit mode as soon as we create a new record, copy a record in Record details View or edit an existing record. some values are underlined (these are links to other records) and some display with a lighter grey font (these values are inherited from another record or another language):
Working with tabs
Fields
If a field includes a flag, it is a multilingual field:
Functionality and customization