Result set View
Result set View displays a list of records returned by a search; retrieved from a saved search; newly created; following the import of records, and so on. Records are listed in pages, and a pagination control at the bottom of the Collections window provides access to all pages. This View provides a summary of the data available in a record using a subset of fields. Records are listed in a table of two or more columns:
Each column (with the exception of the first) is a field in the record. A default set of fields is specified for each data source

The management of a collection can involve a vast amount of information about objects / items / books, people and organizations, events, administration and more. This information is stored as records in data sources. Each data source stores a specific type of information: details about collection items, people, events, loans, and so on.. A field's system name is the column header.

Tip: You can configure which fields are used in Result set View via Settings.

Each row holds a single record.
Each cell in a row can hold a single value. If a field can hold more than one value (author.name (au) for instance), only the first occurrence

If a field in the current record can have more than one value, we add an occurrence of the field for each value (e.g. a book can have multiple authors so we add an occurrence of the author.name(au) field for each author). An occurrence can be a member of a group of fields, and adding an occurrence of the field adds all members of the group at once. displays in a cell.
Result set View is displayed / hidden by selecting its button in the top Toolbar: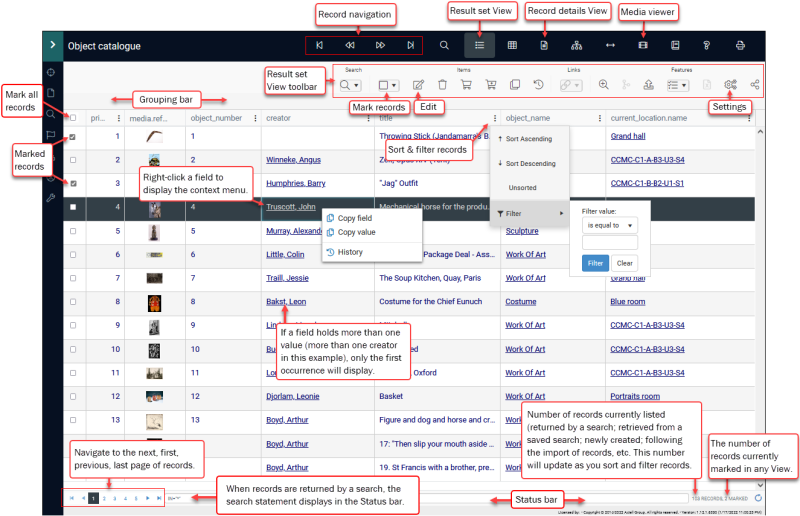 Unless restricted by your organization, the data displaying in Result set View can be edited by selecting Edit in the Result set View toolbar.
A useful combination of Views is Result set View alongside Record details View: the current record

The record currently displayed in Record details View or highlighted (with a solid grey background) in Result set View or Gallery View for instance. is always the same in each View, so as you move from one record to another in Result set View (by clicking a record or using the Record navigation buttons in the top Toolbar), all available details for the current record will display in Record details View.
Note: Result set View cannot be detached from the main Collections Window.
Working in the Result set View window
Read on for details about the features and elements identified in the image above:
Working with records

Related Topics